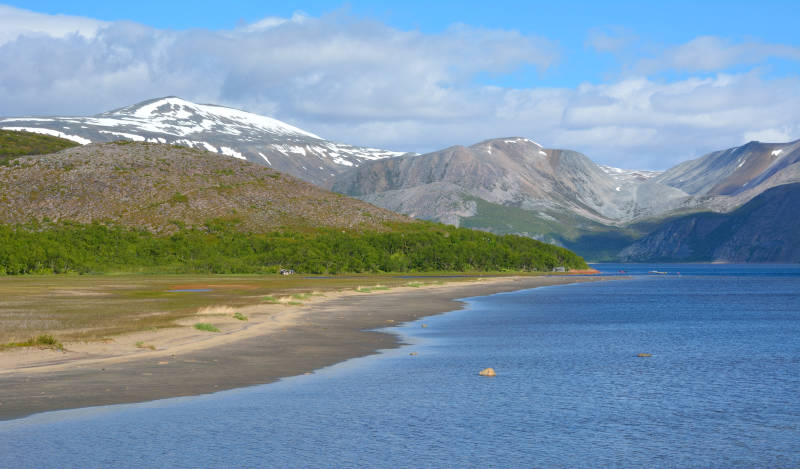 Finally! We've been working hard during the beginning of the year with our websites, competitive tendering and other procurement, and now it begins to show. In fact, part of the Barents IAS project, the pink salmon part, started already in June 2022. Luke's researchers Jaakko Erkinaro and Panu Orell have been developing fishing methods suitable for catching pink salmon with their team. This summer, they will test the developed methods in action. Even half a million pink salmons are expected to migrate to the river Tana to spawn in the late summer 2023.
The project part starting now focuses on alien invasive plants. More specifically, we focus on the garden and Nootka lupin, which turns the roadsides violet during summers. We also focus on alien hogweeds, a group or three species which are hard to distinguish from each other. Our webpage, published in March (and Twitter account!), is the first visible part of the project. During this spring there will be an operator chosen through competitive tendering to do various training and information materials, and also carry out events about lupins and alien hogweeds. The further we will be in the project the more we will be visible!

Barents IAS is special in aspect of how many languages we will use. We will create materials in five different languages. Of course, we will not be able to produce everything in every language and, for instance, the live events will be in one or two languages. We will, anyhow, use Finnish, Swedish, Norwegian, Northern Sami, and English whenever possible. Our website will be published in every language.
The project duration is 6/2022-12/2024. If you are a private person, please follow our Twitter-account (@Barents_IAS) and website! We will also communicate through another social media as soon as we've decided which of the social medias would be best for us. Actors from the Barents region like organizations and municipalities actors are welcome to join also our mailing list. We will inform you about topical issues going on in the project and we aim to build a cooperation networking consisting actors from Finland, Sweden, and Norway.
Stay tuned, you'll hear from us soon again!